Legendary Japanese manufacturer Mizuno has unveiled its new JPX921 Series of Irons, notably featuring the use of Chromoly in a full body forged iron for the first time, in addition to launching the brand's latest range of wedges, the ES21.
The JPX Series irons led a resurgence for Mizuno, starting with the JPX900 Tour and more recently the JPX919 Tour. Now Mizuno has unveiled the next evolution of JPX – the JPX921 Series, a highly engineered family of irons that has been developed alongside Mizuno's comprehensive custom-fitting programme to deliver exceptional performance and help all golfers get the very most from their games.
The new family comprises JPX921 Forged, integrating the power of Chromoly into a full body forged iron, JPX921 Tour, JPX921 Hot Metal and Hot Metal Pro, with each model engineered to help enhance performance for particular swing types. The JPX921 Forged offers the fastest ball speeds Mizuno has produced from a fully Forged iron; JPX921 Tour blends precision with enhanced stability from off-centre strikes; the JPX921 Hot Metal and Hot Metal Pro represent the third generation of Mizuno irons to be crafted from high-strength Chromoly 4140M. Despite design differences, all members of the JPX921 family of irons are unmistakably Mizuno in profile and sensation through impact.
"Applying the potential of Chromoly means that the JPX921 irons hold their own in any simulator test – without having to crank #7 iron lofts at all cost. Look, feel, launch, spin and landing angles have to be right through the set. Ultimately what sets Mizuno irons apart," says David Llewellyn Director of R&D for Mizuno.
JPX921 Forged
The JPX921 Forged iron integrates the power of Chromoly into a full body Forged iron. Initially applied in Mizuno's Hot Metal irons – Chromoly has made the cross over to Mizuno's forgings.
Grain Flow Forged HD in Mizuno's facility in Hiroshima Japan, the JPX921 Forged irons offer an identifiable and unsurpassed Mizuno feel. The integration of Chromoly 4120 allows for a clubface up to 0.5mm thinner which delivers the fastest ball speeds Mizuno has ever produced from a full body Forged iron.
Additional perimeter weighting with toe bias creates a Stability Frame to maximise results from off-centre strikes, while a 6.4% wider CNC back milled slot further increases stability.
Despite this, the JPX921 Forged irons offer a sleeker, compact profile – a shorter blade length throughout, and reduced offset. The feel is that of a traditional forged iron as the JPX921 Forged gets noticeably sleeker through the set.
JPX921 Tour
The most chosen Mizuno model on the Tour among non-contracted professionals – the JPX900 Tour and JPX919 Tour were both played to win major championships. The stunning new JPX921 Tour maintains its predecessor's surprising fusion of precision with stability from off-centre strikes. Now even thicker behind impact for an enhanced, softer feel with tour refined short irons for smoother turf interaction.
Grain Flow Forged HD from 1025E Pure Select Mild Carbon steel, the JPX921 Tour delivers an identifiable and unsurpassed Mizuno feel. In addition, Mizuno's Stability Frame with toe bias weighting promotes a longer, straighter and more consistent ball flight, even on off-centre strikes.
The shorter irons feature a narrower sole for improved turf interaction while a thicker cavity pad throughout the set, evolving from Mizuno's study of vibration patterns, produces a harmonic impact that can be felt for a fraction longer.
With a pearl brush, anti-glare finish to minimize distractions over the ball, the JPX921 Tour offers the sharper, stripped-back functional look that the modern player appreciates.
JPX921 Special Edition Leftie (SEL)
The first left-handed Mizuno JPX Tour irons since it's conception in 2016. Built into a combination set with JPX921 Forged long irons (#4 and #5) and JPX921 Tour mid and short irons (#6-GW) for the perfectly balanced setup. Lofts have been pre-adjusted for perfect distance gapping between the models.
JPX921 Hot Metal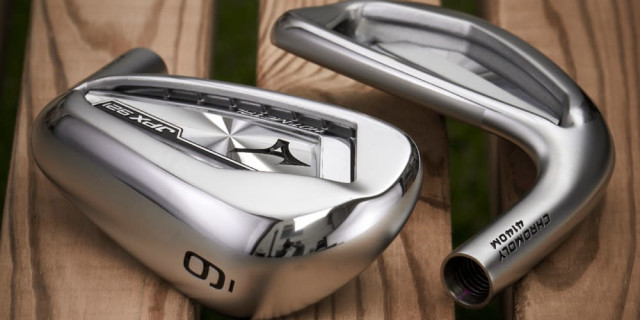 The JPX921 Hot Metal irons deliver Mizuno's fastest ball speeds, a piercingly straight ball flight together with controllable landing angles. The JPX921 Hot Metal represent the third generation of Mizuno irons to utilise the resilience of Chromoly – R&D generally accepts that any new technology needs three generations to reach near-optimal performance.
The JPX921 features Mizuno's most complex face geometry to date, to produce additional energy from the clubface; the Hot Metal Pro version offering a more compact profile with reduced offset.
The use of Chromoly 4140M and a re-engineered CORTECH face, now 0.2mm thinner across the centre point, creates exceptional ball speeds. These are further enhanced by the Seamless Cup Face featuring a variable thickness sole design that allows the leading edge to act as a hinge, generating greater flex.
Three additional sound ribs produce a more solid sensation at impact while extreme perimeter weighting and toe bias in Mizuno's Stability Frame help to deliver greater consistency from off-centre strikes.
"The introduction of Chromoly was the breakthrough Mizuno needed to take a step up in ball speed. We learn more about the potential of Chromoly with each generation and push it further each time," says David Llewellyn.
All JPX921 irons will be available through the Mizuno Custom Programme, which offers one of the widest selections of no upcharge shafts and grips in the industry. It provides a comprehensive range of custom fitting options from the 34 state-of-the-art Mizuno Performance Centres spread throughout the EMEA region – including 13 in the UK and Ireland – to a network of over 1,200 Mizuno Fitters and Swing DNA Fitting Centres that rely on the Mizuno Shaft Optimizer and high-tech Swing DNA software to pinpoint each customer's best-performing specifications.
RRPs
JPX921 Forged: £150 / €195 per iron
JPX921 Tour: £150 / €195 per iron
JPX921 Hot Metal Pro: £135 / €175 per iron
JPX21 Hot Metal: £120 / €155 per iron
New Hybrids
Additionally, Mizuno introduced its new JPX Fli-Hi, engineered to replace less predictable long and mid-irons.
The latest JPX Fli-Hi range of hybrids, use an adapted flow of loft and shaft length in combination with an updated construction to hit more precise, consistent gaps.
The new Fli-Hi's wider footprint and material construction deliver an even more playable, high flying alternative to their predecessors. A 17-4 stainless steel face and 431 body deliver an upgrade in ball speed, while the bendable hosel allows for adjustments in lie angle.
A graduating profile from fairway wood type to hybrid type is a subtle adaptation on previous models. The 20 degree (#4) has a wider fairway type profile, moving towards a tighter hybrid type shaped 29 degree (#7) with a deeper face.
An entirely new construction featuring 17-4 stainless steel face and 431 body has created a lighter crown which allows for a higher ball flight, while a re-engineered Wave Soleplate increases the effective high ball-speed area of the Fli-Hi's clubface to deliver more consistent ball speeds.
With a deeper centre of gravity than the replaced iron, the JPX Fli-Hi produces more predictable launch and spin rates, thereby more reliable distance gaps between clubs.
The new Fli-Hi #7 is built to the exact loft and length spec as the JPX921 Hot Metal 7 iron. At the longer end, the Fli-Hi #4 uses a little more loft and a slightly longer shaft than the JPX921 Hot Metal #4 iron. Testing showed this set-up proved easier to hit the right distance consistently.
"Unlike most hybrids, the JPX Fli-Hi isn't chasing distance at all costs – the design is completely dedicated to hitting the same gaps as a corresponding iron," says David Llewellyn Director of R&D for Mizuno. "Yet the CG placement makes them a lot more reliable than a traditional iron."
Golfers unsure as to how many long irons to replace should visit their local Mizuno Swing DNA centre where qualified fitters will be able to analyse their Shaft Optimizer readings and make their recommendations accordingly. JPX-Fli Hi hybrids can be ordered individually or as part of a custom set.
RRPs
JPX FLI-HI: £135 / €175
New Wedges
Finally, Mizuno has taken its manufacturing skills into the creation of its new ES21 Wdges, boasting a stable design and more central sweet spot.
For 2020, Mizuno has unveiled the ES21 range of wedges, engineered to help players generate the consistent spin rates needed for a more effective short game.
Traditional wedges have a sweet spot that is slightly to the heel side, making it hard for many players to find consistency. But the ES21 wedges feature a higher, more central sweet spot which, combined with a super stable design, delivers a squarer strike and greater levels of more controllable spin.
A multi-piece stainless steel construction features a hollow body for a higher and deeper centre of gravity, while the high toe and low heel keep the wedges extremely stable when the face is opened.
ES21 wedges feature Quad-Cut Grooves: ultra-precise CNC milled grooves cut into durable Grain Flow Forged Boron infused steel. In addition, Hydroflow Micro Grooves, which are vertically etched, help release moisture and maintain spin even in damp conditions.
The ES21 wedges are available with either a standard or wide sole option, each model featuring a surprisingly narrow top line to give the confidence-inspiring look of a players' wedge at address.
"We've taken a very Mizuno type approach to the ES21 by keeping the top line very sleek – despite the technology inside.  Our testing showed that there's a lot of good golfers out there who will be surprised at the gains they could make by having more predictable spin numbers," said Mizuno's Director of R&D David Llewellyn.
RRP
ES21 Wedge: £155 / €205
For further information on the new JPX921 Series plus Mizuno's full range of golf equipment, apparel and accessories visit: golf.mizunoeurope.com.